Ted Nichols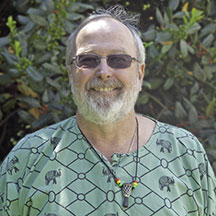 Drum circle facilitator, artist in residence, team building, camps, instrument maker and performer. Instruction for conga, djembe, world instruments, drum set and traditional percussion.
Woodcarving folk artist featured in Museum of Folk Art Williamsburg, VA and the Museum of Folk Art New York, NY. Pro Tools certified user, photographer and web designer.
Be a part of the Science of Sound coming soon. This is a program for students eight years old and up. This program will be an artist in residence program that lasts from one day to several weeks. It will be developed and modified to engage the participants their appropriate age level. Students will learn about digital and analogue sound including: analysis of sound waves, music theory and basic synthesizer properties. There will be projects with household objects and DAW, digital mixers, music hardware and programs like Audacity, Studio One and etc.
Performances
Drum Circle Third Friday Salisbury MD Every Month at SWAC
Drum Circle SWAC African Dancers 2 & 4 Tuesday Monthly
Drum Circle Mallard Landing 1& 3 Thursday Monthly
After School Wicomico County TBA
January 2016
Chris English Blues Band Ocean Pines Library 1/13 2 pm
February 2016
Furitland Primary Multicultural Night 2/8 6pm
Drums Around the World Pocomoke Library 2/11 2 pm
April 2016
Salisbury University Percussion and World Drum Ensemble 4/11 7:30
Earth Day Salisbury Zoo TBA
May 2016
Salisbury University Youth Synphony 5/12 7:30
---
---
Drumming Up Fun Youth Camp
Art Institute & Gallery July 25-29
Percussion Camp Middle School July 11-15
Salisbury Bible Fellowship
Art Institute & Gallery August 3-7
Salisbury Drum Circle Camp Salisbury Zoo August 1-5 ( 2 Sessions)
Workshops Artist in residence
2016 TBA
Mardella Middle and High School

March 2016
2016 TBA
2016 TBA
---

Musical Examples
Bateria Samba De Rio, Trash Can Alley and Tour of Africa
Lessons
Info found here.
Class Description
-This class is geared towards those who have little or no prior drumming experience, but also easily accommodates intermediate players.
For the warm-up we cover the basics such as holding and striking a drum, basic coordination drills. We will explore African and Latin Rhythms on a variety of instruments including djembe, conga drum, cajons and other ethnic instruments.